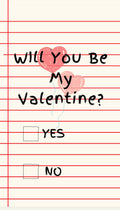 Impress your Valentine with a cute little heart shaped bath bomb with a Valentine card where she can check the "yes" box! 

Item listed is one bath bomb gift wrapped with Valentine card attached for giving. 

Scented with an assortment of: 
Love Spell
Berries and Cream
Cherry Kisses

Made with mango butter and apricot kernel oil for a soothing and luxurious tub of skin-nourishing goodness. 


Ingredients:Sodium bicarbonate, citric acid, sodium lauryl sulfoacetate, potassium bitartrate, kaolin clay, mango seed butter, apricot kernel oil, fragrance, cosmetic grade dye
Weight: 85 grams each
Valentine Bath Bomb Hearts