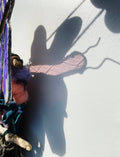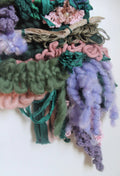 Stained glass dragonfly resting upon a piece of driftwood in her woven garden.
One of a kind piece that includes crochet, woven, and macrame elements. Embellished with beads and acrylic paint for the wing details. Hangs 18 inches length x 9 inches width from a silver chain.
DETAILS
Fibres included: wool roving, wool yarns, recycled cotton cord, organic cotton string, acrylic yarns, cotton yarns, sari silk, bobble yarn
Driftwood
Stained glass
Acrylic paint
Lead solder
Beading embellishments
* This item contains lead solder. Please wash hands after handling. 
Stained Glass Dragonfly Wall Weaving