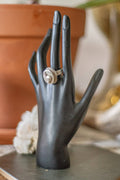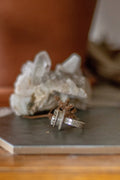 Every piece on this ring is hand fabricated, no prefabed or machine made parts here!
Gothic victorian is an inspiration for this piece, from the coffin reference of the hollow form box to the floral pattern of the band and the rose accent.
Hollow form is many things, including a prayer container. I wrote "peace" on the inner band of the skull box as I wish nothing but inner peace for everyone.
You can see a short version of the fabrication process on my IG page here - https://bit.ly/hollowformring
Size 10. All Sterling silver components