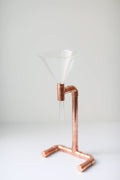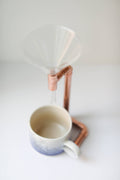 This bespoke copper and borosilicate glass (pyrex) pour-over coffee maker makes the best-tasting coffee! The perfect gift for the serious java lover or a treat for yourself, you will not be disappointed with how simply beautiful this coffee maker is. The copper will develop a lovely patina over time which further enhances the overall look of the piece. Pretty enough to leave out on the countertop, this piece is all about form and function.
Dimensions: 5.5"w x 4"d x 10-1/4"h (with funnel) Funnel measures 4" diameter at the top and 6.5" tall
You can fold standard coffee filters and they work just fine in the funnel.
Reclaimed Copper Coffee Pour-Over