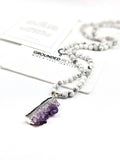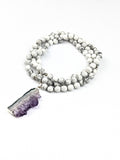 The Pure Calm Tasbih is hand-knotted with 99 howlite gemstone beads and features a silver plated amethyst geode slice pendant. Sterling silver accents are used throughout this piece to separate the beads into its customary 11 & 33 count sections. 
With your purchase, you will receive a gemstone tasbih, grounded revival branded bag, and gemstone properties card. 
Gemstones
Howlite (faceted): Howlite is a calming stone that eases a restless mind and supports during times of stress, tension, anxiety. In emotionally charged situations, Howlite instills patience ensuring calm and reasoned communication.
Amethyst Geode Slice: Amethyst is a soothing stone that relieves stress and strain, balances mood swings, dispels anger, rage, fear and anxiety.
Size & Fit
See Last Picture for sizing support
Two Size Options:
6mm beads, hangs approximately 15 inches/38cm
8mm beads, hangs approximately 19 inches/48cm
The Benefits of Using Our Tasbih
Spiritual Wellness. Life's 'grounding' factor. Tasbihs are used for counting your intentions or reminders. It also helps to improve focus, experience, and benefits attained in your practice. How to Use: Hold the Tasbih between your thumb and index finger and feed through your fingers as you recite your intention or reminder.
Mental Wellness. Busy hands relieve anxiety and quiet the mind. Tasbih or 'worry beads' act as a form of relief as your energy is refocused with the release of harmful thought patterns. How to Use: Focus on how the beads feel in your hand. Center your attention on its texture, hardness, and coolness. Squeeze. Breathe. Repeat.
Made to Last. Our pieces are handmade with love and intention. The method and material used to knot your tasbih is fray resistant with a high tensile strength ensuring both quality and durability.
Style. We got you! Our tasbihs are designed to fit your lifestyle and look.
Handmade in Canada 
Pure Calm Tasbih | Howlite Gemstone Beads with Silver Plated Amethyst Geode Pendant | Free Shipping