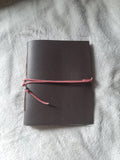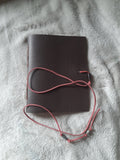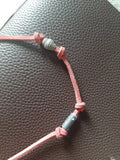 Hand bound soft covered PU leather journal. The cover is brown PU leather with a soft cotton inner fabric. There are 8 signatures made from 100 GSM paper. There is a total of 64 pages. Bound with linen waxed thread. Has a suede cord attached to the front cover that can be tied around the notebook to keep it closed, embellished with leather details and paper beads. It has different light coloured signatures in shades of pink and blue, as well as plain white paper.
Can be used for sketching, writing, doodling. 
Measurements: 
Cover: 9" by 7 " (23 cm by 17.5 cm)
Pages: 5 3/4" by 8 1/4" (21 cm by 14.5 cm)
PU leather long stitch journal with suede cord tie "Blue Deer"