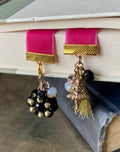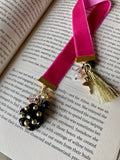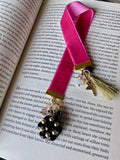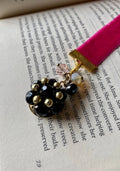 A beautiful fuscia pink velvet ribbon fastened with vintage black & gold crystal earring dating back to the 50s/60s along with a dancer charm, tassel and crystal beads.
Bottom part of the bookmark features a thrifted earring (turned charm) with black faceted and gold toned beads woven around to form a flower shape. Pale pink and black crystals are set alongside this gorgeous piece.
The upper portion of the bookmark features a tiny gold-finished ballerina charm accented with a gold threaded tassel and matching crystal glass beads. 
Bookmark is approximately 3/4" wide (1.9 cm) and 13" long (33 cm) including charms. 
If you, or a reader you know, loves vintage style, this sparkling piece will give you so much joy to use!  
Fuscia Pink Ribbon Bookmark with Vintage Black/Gold Bead Charm