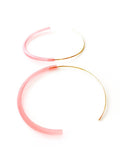 The ISLA hoops are a blend of modern, minimalist shape with colourful accents.  They are light weight, easily styled and made from acetate.

Multicolour, Pastels - 2.25 inches in diameter

Tortoise, Watermelon, Sunshine - 2.5 inches in diameter

Brass, Sterling Silver, 14k Gold Filled wires.


Please note the wires are thicker than standard.