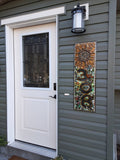 This is a custom piece. Please contact me via email below to discuss your ideas before adding this item to your cart. 

I'll design and build you a custom house number, personalized to your specs. You tell me your likes - colors, animals, flowers, shapes, etc. and I'll build you a one-of-a- kind house number. 

The size of the piece will depend on where you're placing it. The price listed is for a piece that is about 10 to 12 inches by 24 to 30 inches. A larger item will cost more.