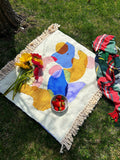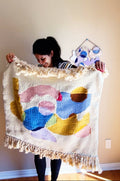 Handwoven abstract shape decorative rug
Measuring 34 in. long by 34 in. wide, this piece is a skillfully handwoven decorative rug that will bring a pop of colour to your space. Perfect for the floor or on your walls, it is sure to attract admirers. Complete with cotton fringe and sewn-on backing.
This piece was created with the intention to be decorative - please do not machine wash.
Handmade in Kingston, Ontario, Canada
Handwoven Abstract Shape Decorative Rug