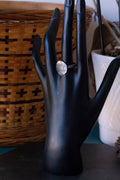 Beautiful hand fabricated ring that used all scraps to come to life. Fairy dust adorns the disk giving it a other worldly, moon face look.
A great simple every day ring inspired. Perfect on its own, paired with a thick band or as part of a stack. Lots of options with this one.
This ring had been patina'd. The patina accentuates valleys and grooves and give the ring nice visual dimension and interest.
All parts of this ring have been hand fabricated.
Size 8. Sterling Silver