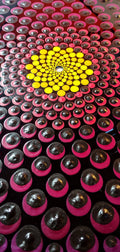 12" vinyl record hand-painted with a custom design using dot art techniques. The pieces in the photos are samples; the blue piece is available, but I'm happy also to make you a piece in this style with colours of your choosing.
Each made to order, and one-of-a-kind!
I mix my own paints, so please allow for minor colour variations.
Each piece can be done with only one side of the record painted or both sides, with either the same design on each side or two different ones. Records can easily be mounted to a wall with a pin through the centre (photo #6) or you can show off both sides equally by suspending the record with a piece of nylon string, thread or anything else strong enough, from the ceiling with a pin (photo #7.)
If ordering a second side, please specify which design you would like on that side. If I don't have a listing for it already, please send me an image of the flag/style you desire (some flags have colour or stripe variations.)
Dahlia Design: Acrylic Dot Art Painted Record