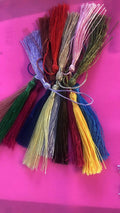 These keychains will last you a lifetime. Crafted specifically for you, there are choices of the following:
beads in just about any color; glitter in many shades; fleck in many colors; color changing letters within the resin; and the resin can be colored to your specific requirements. 

The keychains are finished off with a silver chain and keyring and can include a silk tassel in any of the colors shown in the pictures gallery. I do require an email, or phone number, in which to establish communication as to the order. This will insure that you get exactly what you want :-)
There are endless designs possible. Inquire about your needs today.