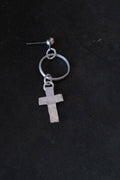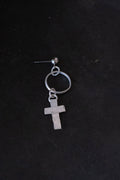 When I was making these earrings I specifically had people with multiple piercings in mind, and thought these would go great in second and third piercings and envisioned a mixed & eclectic look happening. 
This single earring is a small cross hanging from a hoop, with a textured surface. 
These earrings are lightweight and very comfortable to wear. No crosses were harmed in the making of these earrings. 
Earring is almost 2 inches tall. Sterling silver.
PLEASE NOTE THIS IS A SINGLE EARRING. 
Cross stud earrings small hoop