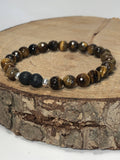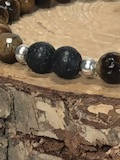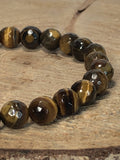 Simply apply your favourite essential oil to the lava stones and you'll be set to conquer whatever comes your way!

Tigers Eye is a stone of protection.  It has the power to focus the mind, promoting mental clarity, helping us to make clear decisions without the influence of emotion.
Lava brings forth strength, passion and courage.  It also helps with anger management and raises energy levels.
8mm Gemstone Diffuser Bracelet (Tiger's Eye)