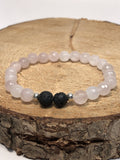 Simply apply your favourite essential oil to the lava stones and you'll be set to conquer whatever comes your way!

Rose Quartz is known as the Stone of Love.  It emits a strong vibration of unconditional love, joy, warmth and emotional healing.   The intention may encompass self love, partner love, family love, community love or even universal love.
Lava brings forth strength, passion and courage.  It also helps with anger management and raises energy levels.
8mm Gemstone Diffuser Bracelet (Rose Quartz)