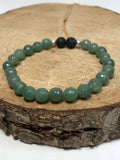 Simply apply your favourite essential oil to the lava stones and you'll be set to conquer whatever comes your way!

Aventurine is a comforting stone that brings well-being and emotional peace.  It has a soothing energy, beneficial for people who have anxiety or suffer from restlessness.
Lava brings forth strength, passion and courage.  It also helps with anger management and raises energy levels.
8mm Gemstone Diffuser Bracelet (Aventurine)