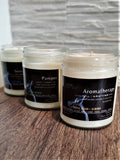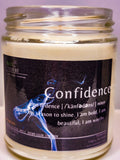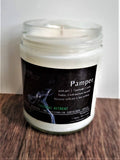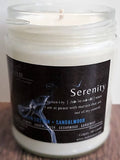 MalyNature's affirmation themed candles are designed with thoughts that will empower, comfort and encourage you to be your best self. They are made with a blend of natural coconut and soy waxes, which makes for a clean burn and beautiful fragrances emitted from our candles.
Offer them as gifts to a special person to let them know you care or keep them for your selves. Either way, we hope the affirmations and the fragrances will uplift you with every single light.

Options: 
Pamper- The quote written on the candle states, " Today, I will nurture myself because self-care is not selfish" and serves as a gentle reminder that you are important and your needs are relevant also and should be duly catered to. Malynature's Pamper candle is beautifully scented in Tropical Retreat. It offers a citrusy and fruity blend of tangerine, lime, mandarin, watermelon, apple and cantaloupe. Takes you back to that amazing summer trip to the Caribbean, sipping on endless cocktails as you relax on the sunny, windy beach. It is a delectable fragrance that is sure to put you in pamper mode.

Aromatherapy- The quote written on the candle states, " I will breathe and take it all in. It's a beautiful day". Sometimes we just need to take a moment to appreciate the little things and re-focus. Snap into spa mode with Malynature's Aromatherapy candle. The Black Salt and Cypress fragrance combination gives you hints of a coastal storm of sea salt air, ocean spray, misted cypress and sun bleached driftwood.  A delightful fragrance to take you away on a cruise to relaxation.

Confidence- The quote written on the candle states, " This is my season to shine. I am bold, I am beautiful, I am worthy." Believe in yourself and allow people to love you for who you are. Be confident in your own skin and let your true beauty shine through. You are better than you think you are. Malynature's Confidence candle is themed Autumn Days and boasts a delicious, warm blend of pumpkin and bourbon with sweet maple brown sugar, finished with a dash of cinnamon. Talk about comforting, this fragrance is all about that.

Serenity- The quote written on the candle states, " I am at peace with matters that are out of my control," and serves as a gentle reminder that when faced with overwhelming challenges or circumstances, sometimes to maintain our peace of mind and balance, we need to find a space to re-center and be calm. Malynature's Serenity candle is delicately scented in Clean Cotton & Sandalwood. It offers gentle and beautiful floral notes of jasmine, gardenias and lilac which are anchored by the bold notes of amber, musk and cedarwood. A blend of fragrances that add a calming, fresh and delightful scent to your space.

The quote written on the candle states, " I invite soothing and peaceful energy to balance my thoughts." When faced with challenging circumstances,  re-channel your thoughts and focus on something that truly makes you happy. This will allow better thought processing and release more positive energy. Malynature's Tranquility candle is a rich and beautiful blend of mahogany and teakwood, fused with oak and cedarwood and softened with the floral combination of lavender and sweet geranium that gives the feeling of sitting in a luxurious spa awaiting your well deserved pampering.

Custom Candle- Got something to say? Say it on a candle. Malynature invites you to express yourself and tell your loved ones exactly how you feel with our unique option of custom candles. Personalize them however you want and don't be shy. Self expression is liberating. Malynature's custom candles make a perfect gift for him or her. Simply send us the message you would like to place on the candle. Keep it short and spicy! Malynature's custom candles may be scented in any of the fragrances used in our Affirmation candle line.

Our candles are 9oz with cotton wick.
Enjoy!
Scented Candles | Affirmation Quotes | Natural Coconut Soy Wax