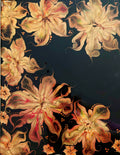 This artwork is a warm and inviting piece of art that will add a touch of elegance to your living room. The gold copper metallic colours stands out against the black background, making it a perfect complement for any space.
The warm color palette adds a feeling of warmth and comfort to your home, while the sealed resin gives this artwork glass like finish and ensures that this piece will last for years to come.

Dimensions: 11"×14"×0.6"

Comes with attached wiring on the back ready to be placed on your wall.
Free shipping within Calgary AB

Warm Floral Bliss 11"x14"