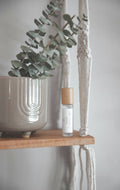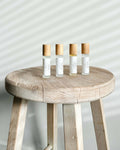 relaxation roller:  lavender & frankincense
roll onto the inside of your wrists (rub together and inhale three times), behind your ears and over your heart to help manage stress and anxiety.
headache roller: lavender & peppermint
roll onto temples and behind ears to help the relief of headaches. * be mindful of your eyes
tummy roller: fennel, ginger, lemon, mandarin & peppermint
roll on a generous amount on your abdomen in a circular motion to help with digestion, nausea/ motion sickness and bloating - can also be rolled onto the chest and upper abdomen to help with heart burn.
sleep roller:  lavender, cedarwood & vetiver
roll onto the bottom of your feet, chest, inside of your wrists and behind your ears before bed for a restful night sleep.