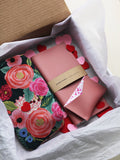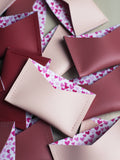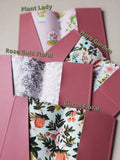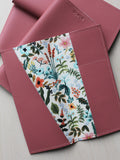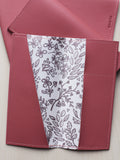 Cute gift set for someone you love! This set comes with a floral pouch, long tea rose passport case and hearts card holder.
This gift set ships for FREE!
Gift idea for Galentine's day, Valentine's Day, birthday or treat yourself to something nice.
The long passport holder is perfect for those who love to travel and want to carry all their essentials; including boarding passes, custom forms, ID cards, Nexus cards and itinerary information. You can add custom initials to the passport holder if you wish!
The heart themed holder can easily carry 8-10 credit cards. Great place to carry your business cards, cash... or a love note.
Long Passport holder: Inside Fabric
- Jungle Animals
- Paradise City
- Birch Blush Floral
- Jungle Cats
Long Passport Holder: LIGHT PINK
- Marine vinyl (outside)
- 100% cotton liner (inside)
- Double stitched, heavy duty polyester thread  
- Vegan friendly!
Approx,. dimensions of Long Passport Holder:
- Length 21.6 cm  
- Height 22.0 cm  
Card Holder Details:
- Marine vinyl (outside)
- 100% cotton liner (inside)
- Vegan friendly!
Approx. dimensions of Card Holder:
- Height 7 cm
- Length 11 cm
Pouch Details:
Outside: Juliet Rose Floral
Inside fabric liner: Black Canvas
Approx. dimensions of Pouch:
- Length (top): 24 cm
- Length (bottom): 15.5 cm  
- Width (bottom): 9.5 cm
- Height: 10 cm
Gift Set by amarin | Tea Rose