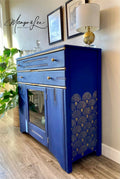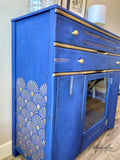 Couldn't think of a better way to kick off our design showcase than with this show-stopper! Great Gatsby!! 🤩
LOCAL PICK-UP ONLY IN AIRDRIE
Dimensions: 42" wide x 17.5" deep x 42" tall.
Art Deco is one of, if not THE most influential styles of the 20th century. Probably our favourite design thus far! Think opulence, luxurious elegance, functionality, modern lines. Art Deco combines that old-world glamour with a bold flair. This stunning piece is designed to have impact and start conversations. Though Art Deco dates back to the 1920's, it remains an iconic and perfect addition to any home.
This beauty was brought to life using @anniesloanchalkpaint in Napoleonic Blue with Black Wax to bring out that rich detail. We were so excited to get our hands on the the newly-released Deco Peacock stencil by Kaćha Furniture and @redesignbyprima which you can see adorns the sides in a stunning gold. And as an added touch, there is an aged peacock motif inside the cabinet. This piece is ONE OF A KIND!!
Much love, care and time go into each and every piece. Mediums and finishings are top quality and you can be sure to have a beautiful statement piece for years to come. You are not just buying a piece of furniture, you are buying an original piece of art.


NOTE: Furniture is vintage. Please expect normal wear that would be typical of time and aging.